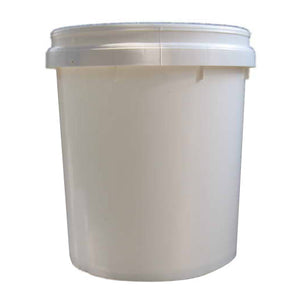 Coconut Oil, 20 Litre Bulk Organic Virgin Coconut Oil
Coconuttyltd
Regular price £137.80 Sale
IN STOCK | DISPATCHED WITHIN 24 HOURS
Wholesale Bulk Organic Virgin Coconut Oil 20 Litre with a saving of 50% over jars.
For 10 Litre Size click here
PRODUCT DESCRIPTION
WHY BUY FROM US
DELIVERY INFORMATION
PRODUCT DESCRIPTION
This 20L bulk wholesale virgin coconut oil is our highest quality cold-pressed organic virgin coconut oil. It is the same coconut oil that we use in our flagship Coconutty brand jars. (For 10 Litre Size click here)

So many uses, you can ensure you have your coconut oil when you need it and pocket a saving of 50% over buying it in jars.

This is the highest quality coconut oil we have ever supplied - sustainable cold-pressed oil of fresh-picked organic coconuts which retains the subtle taste and aroma, with a smooth, white, creamy texture - the result of years of tasting and testing oils from around the world, with the best customer feedback.
Sourced from the Philippines, you will notice there is a clear difference in taste and texture over other oils on the market.

This bulk coconut oil is used by caterers, therapists, high-end body-care, resellers, food, supplement and skin care manufacturers etc.
Features
Has the taste and aroma of the fresh coconut from which it's cold-pressed.
The colour is pure white
Melts at 25 degrees C. (76F) into a transparent clear oil 
The taste is delicious enough to eat off the spoon, add to your coffee, or use for oil-pulling.
Coconutty Virgin Coconut Oil comes from fresh picked coconuts of organic trees; picked at the right stage of maturity and checked individually; cold-pressed, filtered, bottled and sealed.
Rich in medium-chain fatty acids ( MCT ) including Lauric acid
Unsurpassed taste and quality - 100% pure and unrefined
Ideal for oil-pulling
Butter alternative, use it as a spread
Perfect for baking, frying and roasting
Harvested from organic coconut palms
Fresh picked and cold-pressed
The quality is easy to see and taste!
Sustainable and Ethically Produced

Coconuts grow in abundance around tropical coastal areas making the coconut tree one of nature's most naturally sustainable resources. After pressing the oil, the coconuts' uses have just begun! The coconuts are then used to make coconut flour and coconut milk, while the shell and husk are made into rope, mattress fibre, plant pots, charcoal.... nothing goes to waste. From cultivating to harvesting through to the final packing - all come under the motto of sustainability.
Superior Quality
Coconutty Virgin Coconut Oil is cold-pressed from hand selected, fresh-picked coconuts which are harvested at the peak of flavour and nutritional value. The coconuts are grated and the meat (white flesh) is dehydrated. This is then passed through a mechanical press using an expeller to extract the pure oil. This yields the highest possible level of flavour, aroma, and nutritional integrity. The oil is then packaged into sturdy glass jars and tamper proof sealed. So whether you're supercharging your coffee, oil pulling, cooking or moisturising with it, be sure to keep your coconut oil on hand. You can even use it to deep condition hair or treat your skin with this most natural and edible moisturiser.
Typical Fatty Acid Composition:
C 6 Caproic acid 0 – 0.7
C 8 Caprylic acid 4.6 - 10
C 10 Capric acid 5 - 8
C 12 Lauric acid 45.1 – 53.2
C 14 Myristic acid 16.8 - 21
C 16 Palmitic acid 7.5 – 10.2
C 18 Stearic acid 2 - 4
C 18:1 Oleic acid 5 - 10
C 18:2 Linoleic acid 1 – 2.5
Ingredient: Organic Virgin Coconut Oil, unrefined.
Does not need refrigeration.
Dispensing the bulk wholesale coconut oil: For quick basic use you can use an ice-cream scoop or for decanting into jars, melt by placing the pail on a trickle-heat mat or tray for 24 hours.
Melting point is 25 degrees Celsius.
Storage: Store in a dry place. Reseal after use. Do not expose to other liquids or moisture.

Best Before: Over 12 months.

Ingredient: Organic Virgin Coconut Oil.
BPA-Free container, re-usable, recyclable.
Country of Origin: The Philippines.

FREE UK MAINLAND DELIVERY
| | |
| --- | --- |
| Nutrition | Per 100g  |
|   |   |
| Energy Kj | 3654 |
| Energy Kcal | 889 |
| Fat g | 98 |
| (of which saturates) g | 87 |
| Carbohydrates g | 1.9 |
| (of which sugars) g | <0.1g |
| Fibre g | <0.5g |
| Protein g | 0.2g |
| Salt g | 0g |
WHY BUY FROM US
Established in 2007 Coconutty.co.uk promotes natural and organic coconut products and we continue this goal by always putting the customer first. Our priority is to source the highest quality produce from this tree that sustains life through its bountiful display of diversity and expression, and deliver it to you. Shop with us today and see the Coconutty difference.
Here are just a few reasons why you should consider buying from us:
We use trusted fulfillment services to deliver your order. We have partnered with reliable couriers and have orders dispatched on a daily basis. That means you will be receiving your wonderful coconut products by reliable couriers.
Over 10 years experience in coconut products by sourcing the highest quality produce and providing exceptional customer service.
Secure Ordering using industry best encryption.
Lowest pricing available online
Courteous, knowledgeable and professional support
1000s of satisfied customers
Quality name brand all natural products. You will love our products.
100% Satisfaction Money back guarantee.
All items in stock & ready to ship.
Everyone that uses our products comes back for more. We must be doing something right!
"All this from just one tree. That is why we are COCO-NUTTY."
DELIVERY INFORMATION
Choose from the following delivery options at checkout:
No-Rush Delivery
£2.95 (or Free delivery when you spend £39)
This is a no-rush option with delivery time of 4 to 7 working days from order date.
Standard Delivery
£4.95
Delivery time is 2-3 working days from order date.
Express Delivery
£8.95
Delivery time is 1-2 working days from order date.
Highlands and Islands: Deliveries to remote locations (including highland or island addresses) take 2 days longer.
All orders are packed and dispatched from our warehouse in West Yorkshire on a daily basis. We do not use drop-shippers or third parties, so your order comes direct from our warehouse to you.