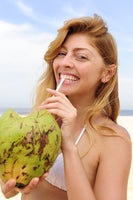 ONE TREE  that can do EVERYTHING? That's what's been said about the Coconut Tree. In Sanskrit it's known as "Kalpa–Vriksha" meaning the tree that has everything to sustain life.

All this from one tree: It has food, it has drink, it has skin-care, it has shelter, it can be made into oil, water, sugar, vinegar, flour, rope, brushes, necklaces, plant pots, charcoal, mattresses, filters, wine... The coconut's uses are abundant.

The coconut is one of the biggest seeds on earth. It can cross oceans and plant itself on a beach to grow itself again. It's a ready-made drink. The coconut tree is revered the world over as a source of nutrition, beauty and hydration, through its bountiful array of diversity and expression.

Since 2007 Coconutty brings you the best the coconut tree has to offer, delivered to your door in the UK. Welcome to your coconutty journey.
Shop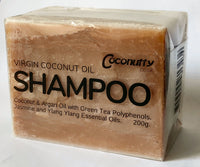 Solid Shampoo Bars
Take two bottles into the shower? No need for plastic bottles anymore with solid shampoo bars...
More Info
Testimonials
Love, love, love this coconut oil!!! Smells amazing, as a moisturiser you only need to use small amounts and it absorbs quickly into the skin. As a food source, I cannot praise it enough. I love it so much I even eat it off the spoon. Such a delicate taste and even my kids love it! Loved the fact I was able to make a saving with the twin pack and I have a feeling I will be making the same purchase again and again!

Lynsey Tandogan
This tastes fantastic! I adore eating some from a spoon it's that nice, so it must be doing something for me if I like eating it neat so much. I do love coconut in all it's forms and coconut oil is lovely to cook with. The taste is fairly mild with only a slight coconut taste and should not be overpowering to cooked foods. Add it to everything you can. It has a very long shelf life because it is not like dangerous polyunsaturated oils which become rancid very quickly. Therefore, do your family's health a favour and get some healthy oil like coconut oil!

Carl T.
I much prefer your coconut water to most brands on the market. Very impressed with Coconutty because of their excellent customer service and speedy delivery! Many thanks!

Emilia Bairamova
Your Delivery Options

Super Saver UK Delivery
£2.95 (or Free Super Saver delivery when you spend £39)
This is a no-rush option with delivery time of 4 to 5 working days from order date.
Orders are dispatched on a daily basis from our Yorkshire warehouse via Royal Mail and Parcelforce.


Standard UK Delivery
£4.95
Delivery time is 2-3 working days from order date.
Deliveries to remote locations (including Highland or Island addresses) may take 2 days longer.

Express UK Delivery
£8.95
Delivery time is 1-2 working days from order date.
Deliveries to remote locations (including highland or island addresses) may take 2 days longer.
Where You've Seen Us